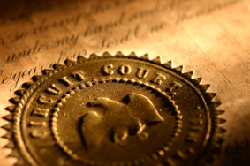 Family Detective, LLC
Kathleen W. Hinckley
Certified Genealogist®

Contact the Family Detective using this form for a no-obligation estimate.

Portfolio
Kansas Probate Case -- 146 Heirs -- Over 400 Documents
Kathleen was the court-approved genealogist and expert witness for an intestate case in Kansas. The decedent never married and had two brothers who were deceased and did not have children. The decedent's father was an only child and deceased. The grandfather was born in Ireland and had ten siblings. About half of the siblings remained in Ireland and the others immigrated to the United States in the late 19th century. The final distribution of the estate went to 146 heirs scattered throughout the United States, Ireland, England, and South Africa. Over 400 documents were gathered in the research and presented in court with descendant charts and reports.
Colorado Conservatorship -- Located Heirs-at-Law -- Court Affidavits
Heirs-at-law needed to be identified and located in order to advise them on pending court hearings. Since the individual did not marry or have children, the living descendants of her mother's seven siblings needed to be located. Twenty-eight 1C1R (1st cousins once-removed), and thirteen 1C2R (1st cousins twice-removed) were located in the U.S. and Canada.
Texas Probate Case -- Solve Incomplete Genealogy -- Locate Half Second Cousins
A law firm in Texas contacted Kathleen to assist in locating heirs. The attorney had found heirs from one branch of the family, but was having difficulty locating descendants of the three siblings of the grandfather. Kathleen located four half-second-cousins. An aunt of the decedent married her cousin after the death of her first husband which created confusion, but was untangled by the Family Detective.
Rhode Island Probate Case -- Evaluate Evidence
A Rhode Island law firm contacted the Family Detective to evaluate the evidence of beneficiaries submitted by two different heir finders. Although the lists of heirs did not duplicate one another, it was exceptionally confusing on how each person was related to the decedent. Color-coded laminated charts were prepared for court that quickly showed which branches were represented by each heir finder. This assisted the attorney in determining what fractions of the estate were to be distributed to each heir.
Texas Land Dispute -- Genealogist and Expert Witness
In order for a land dispute to be settled, descendants of an individual residing in south Texas in the late 1800s needed to be located with complete documentation on relationships. All persons located were linked to 130 individuals who signed deeds in 1905, 1908, and 1935.